Visible Youth | Anti-Aging Gel | GlycoBio Sciences
One reason could be because you're not happy with the way your skin looks now. Maybe it lacks sparkle and shows more years than you feel, and other products you've tried have not made any real satisfactory change in your skin.
Visible Youth's Revitalizing Skin formula is not just another expensive product. It is made up almost exclusively of a special type of Ultra Pure Hyaluronate (HA), a substance that has an extensive history of use in the field of medicine. It has been thoroughly tested for hypo-allergenicity and efficacy, to deliver on our promise.
---
IN THE SKIN
Hyaluronate plays an important role in tissue hydration, lubrication and cellular function. It is able to hold more water than any other natural substance.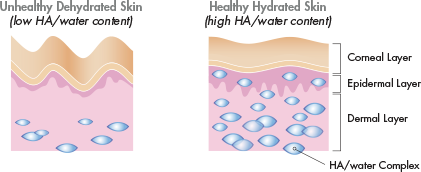 ---
HOW DOES VISIBLE YOUTH WORK
Hyaluronate is a major constituent of the Extracellular Matrix (ECM) and serves as a structural element, combined with Collagen and Elastin, also known as the connective tissue. HA locks large amounts of moisture into the ECM and also supports the structural integrity. When Elastin is not bathed in water it becomes dry and brittle and the result is wrinkled skin.
---
WHEN DO YOU NEED VISIBLE YOUTH
At the first signs of premature aging is a good time to introduce Visible Youth Revitalizing Skin Formula as part of your daily regime, regardless of your chronological age.
 
Biologically, even in ideal conditions, your body gradually decreases its production of HA from birth, so by the age of 40 you have less than 50% of that which you were born with and by 60, only 10%. Environmental factors such as pollution, increased sun exposure, lifestyle habits also contribute to this loss, resulting in a collapse of the Collagen that leads to premature skin aging.
---
STANDARD OF EXCELLENCE
The first VISIBLE YOUTH Revitalizing Skin Formula was launched in 1988. The phenomenal success of this product in the Canadian market led to the expansion into the USA, Denmark and Sweden. This standard of excellence has been the driving force behind the re-introduction of this unique premium quality product; VISIBLE YOUTH Revitalizing Skin Formula, to the market place again.
---
IMPROVED FORMULA
Unlike the previous VISIBLE YOUTH product, based on Alan Drizen's Bio Polymers original creation, this improved formulation has a faster penetration and deeper moisturizing effect, due to the additional proprietary technology created by GlycoBioSciences researchers.
 
If you used VISIBLE YOUTH Revitalizing Skin Formula in the past and liked those results, you're going to "Love" the way your skin will look and feel after using this new improved version.